First Flush 2009
The Kudela group has sampled the recurring red tides in Monterey Bay for the past three years. Some members of the lab are working to understand how nutrient dynamics in the bay may be influencing how these red tides form and are sustained. To that end, we sampled before and after the first major winter storm of the year, or "first flush," to observe how the nutrient pulse to the bay influences red tides. As evident from the brown plumes in the satellite imagery and through drifter deployments, fresh water from the Pajaro, Salinas and San Lorenzo Rivers is delivered to the bay and transported northward and nearshore by the prevailing currents. This nutrient-rich fresh water is retained in the region known as the "red tide incubator" where it helps sustain the algal bloom. Our group, in cooperation with Dr. John Ryan from MBARI, is working to explain the biogeochemical processes that support these blooms and ultimately result in their demise at the onset of winter storms.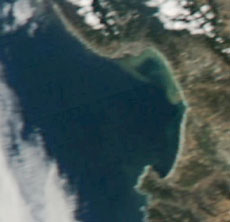 This true-color satellite image shows the ceratium bloom that occurred in Monterey Bay during the week of October 12, 2009.
Below - the OC2 chlorophyll image at 250m resolution from October 15. Samples taken at the Santa Cruz Wharf at noon on the 15th measured >2000ug chlorophyll.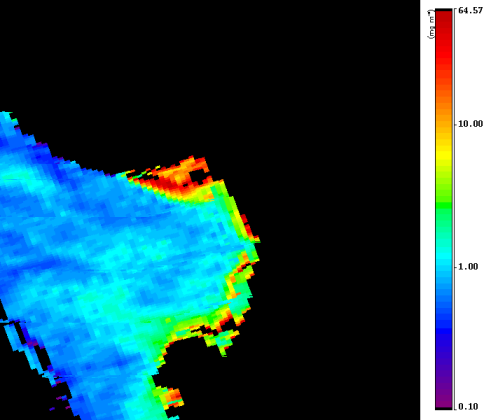 This bar graph shows the domoic acid levels at a series of stations in Monterey Bay before (blue) and after (purple) the First Flush storm event. Domoic acid, produced by some species of Pseudo-nitzschia, can lead to amnesic shellfish poisoning. Domoic acid levels increased by approximately 4x after the storm. Station 9 and station 3 are located in river plumes. The statellite image below shows the locations of the stations. Paralytic shellfish toxins (saxotoxin) were also detected at several stations.