Genus: Margalefidinium | Dinoflagellate
formerly Cochlodinium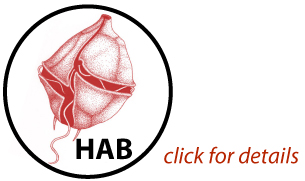 Common West Coast species: M. fulvescens
Order: Gymnodiniales
Family: Gymnodiniaceae
Description: Unarmoured cells with cingulum rotating more than 1.5x. Single cells or chain-forming, with or without chloroplasts. Encystment common.
Cell Size: Width = 20-40um, Length = 60-80um
Distribution: Cosmopolitan in warm and temperate waters.
Interesting Facts: A toxin producer. Recently, and for the first time, dense blooms of M. fulvescens have been reported in Monterey Bay. High-density blooms can color the water brown or red.