Genus: Chaetoceros | Diatom
Common West Coast species: C. didymus, C. decipiens, C. debilis, C. convolutus, C. constrictus,  C. compressus, C. radicans
Order: Biddulphiales
Family: Chaetocerotaceae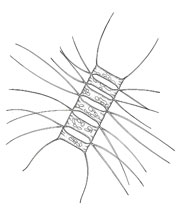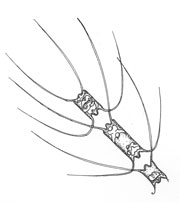 Click on the illustrations to enlarge
Description: Cells form chains that are coiled, curved or straight. Long setae emerge from corners of cells. A few solitary species are found in Monterey Bay. One of the largest genera of diatoms, roughly 400 species, most of which are marine. Some species form resting spores and/or auxospores.
Cell Size: Width (apical axis) varies with species, roughly ranges from <10 um to 50um.
Distribution: Chaetoceros spp. are often dominant components of the phytoplankton community in Monterey Bay, and they are widespread throughout the world's oceans.